Now Hiring Mini-Bus/Shuttle Drivers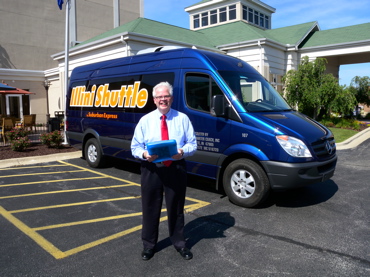 Introduction
Illini Shuttle operates between Champaign and Chicago Airports and Suburbs. We've been operating airport shuttle service since October, 2004.
Here's a short video showing an important part of the job: Typical Campus Pick-Up
We're growing, and we need you on our team!

Features
Driving for Illini Shuttle has several benefits over other driving jobs:
Most of our work is done at a time when you're normally awake.
Our trips start and end in Champaign, so you'll be home virtually every night.
Our shuttles ride like cars, so you won't have to put your internal organs back where they belong at the end of a run - like you might after driving a truck.
Our trips go to the same airports and suburban malls each week, so you're not always trying to find your way to an unfamiliar place.
Our shuttles are clean and well-maintained.

Compensation & Benefits
We are currently hiring full-time Mini-Bus/Shuttle drivers. Choose from one of two compensation plans:
Hourly: You'll drive five or six trips to Chicago area each week (you choose whether you are a five day driver or six day driver). You'll typically work the same days each week, and specific trip assignments are known about 3 days in advance. Wage is $14.50/hr initially and $15.00 after 10 months of excellent service. All time is straight time. A $200/month health insurance allowance (to pay for insurance you purchase) is provided for employee after eight weeks of service.
Training is paid at minimum wage and takes about 40 hours. Health insurance begins after eight week probationary period.
Hourly and Salaried employees both get one week of paid vacation after one year of employment.
Drivers with strong communication skills who demonstrate enthusiasm, commitment, and who are safe and reliable may be invited to do additional non-driving work, such as supervising loadings, training new drivers, etc.

Home Base
Our storage lot is located in north Champaign. You'll report to work at this location. Free parking and free beverages are provided.

Requirements
Mini-Bus/Shuttle Driver
Excellent driving record (ie one ticket may be a problem, two would likely disqualify you)
No criminal convictions
Must have a computer at home with Internet access
Must have reliable transportation to/from work
High school diploma (college classwork a big plus)
Must be healthy and able to lift 50 lbs
Must be a non-smoker
Must be at least 30 years old

Application Process
Before you can drive for us, we'll check you out:
DOT physical
Drug test
Driving record check
Background check

WE'RE NOW HIRING
Full-time Mini-Bus/Shuttle drivers.
Full-time coach drivers. Pays about $40k-50k/year.
Part-time coach drivers. Must be available Saturdays and Sundays.

Application Instructions
Please bring a photocopy of your driver's license. If you have a current dot physical, please bring a photocopy of your DOT physical certificate.
Application takes about an hour to complete.
NO CALLS PLEASE

Current Application Times


Date             Time                  	Location
----             ----                  	--------

December 1       10:00 am - 4:00 pm      Champaign Storage Lot, Hensley x I-57, near the giant rooster, Champaign


Application must be started one hour prior to end time and completed by end time.


Check back for additional dates/times. Remember, the early bird gets the worm.

Our Equipment